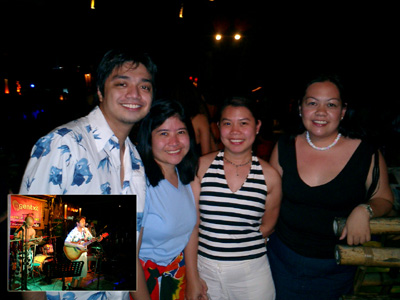 My star-struck wife was all excited when we got home because she wanted to have these photos with celebrities blogged. So here it is! First photo is with Acoustic Performer
Nyoy Volante
(with an inset of his performance at Pier 1), the next one below is with
Randy Santiago
, who was celebrating the opening of Ratsky at Station 1, and finally, with actress
Claudine Barretto
.
The other two gorgeous ladies in the photos are friends Honey and Babes.
We also saw a bunch of other celebrities. The ladies went ga-ga over
Mark Nelson
, while we guys oggled over
Ms. Katya Santos
. We also saw
Gwen Garci
and
Jen Rosenthal
.
Tuesday Vargas
was also there, as well as the beautiful
Bianca Araneta
. *Sigh* we weren't able to take photos.
Sayang!
And then there was
Dennis Padilla
with the kids; they had snacks in the same place we were taking a break from shopping. Of course we didn't ask Mr. Padilla for a group photo,
dyahe naman
, he's spending time with his family.
Raymart Santiago
was in the Ratsky opening as well. And finally:
Ms. Sunshine Dizon
was in the same flight as we were in going back to Manila.
Each encounter was followed afterwards by commentaries on who was with them and who's supposed to be with them, etc. etc. Made me feel like I was watching a Talk Show! ^-^