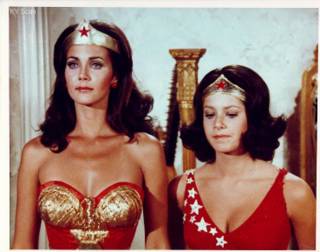 I was all smiles last night. Why? Because my wife and I bought something from our childhood: Wonder Woman!
Well, it's the VCD for Episodes 1 and 2 of the TV show actually. Readers from other countries might not be familiar with the VCD format; suffice to say that it's a precursor of the DVD.
When the opening song blared on the speakers and the cartoony stars splashed on the screen, I was transported back in time. It's one of the few shows we were able to watch in Channel 9 because it did not conflict with the Basketball schedule. The photo above was taken from
here
. Turn up your speaker volume if you want to hear one version of the show's theme song!
It's funny that I remember Wonder Woman having a sidekick (Wondergirl); I have such a poor memory that I only remember bits and pieces of things. I am also very poor at remembering names, so pasensya na po if ever I do forget yours when we meet. :-)
Anyways, ang ganda talaga ni Lynda Carter! She's really gorgeous, even with those exaggerately-huge spectacles on.
Watching Wonder Woman brought back memories of other things I was fond of when I was a kid. Eto po ang mga nami-miss ko:
1. Nintendo Game and Watch - yup, I grew up playing with this nifty electronic toy. Back when it was popular, you can rent one by the hour! We used to visit a house nearby, and they would have a tray with lots of Game n Watches. Simply pick out what you like and play the time away.
2. Dungeons and Dragons - the cartoon show. It was my introduction to the world of magic and RPG. Kasama na rin dito ang Macross.
3. Saturday Fun Machine - tambay sa bahay buong umaga ng Sabado sa harap ng TV!
4. Bioman and Kyodyne - tama ba yung spelling nung huli? I remember the latter because I was bedridden for quite some time and this show kept me company. They ate through a siphon that's attached to their stomach. Plus they have TV monitors showing their human faces when they get their mask off. Wierd huh?
5. Hiking - from our home near Burnham Park to Camp John Hay, Imelda Park (now Botanical Garden), Hyatt (now gone with the 1990 earthquake)... basta lakad kami ng lakad. I have grown so accustomed to walking that even today, I'd keep a steady pace and unknowingly outwalk my friends (maghintay ka naman!)
6. Torones - a small block of candy similar to Tootsie Roll that tastes like Peanut Butter. It was sooo popular in my high school days that we even had an unofficial Torones Club. Add to that the Haw Flakes, a sweet Chinese concoction that we shared a-la communion.
7. Just being in the 80's was one heck of a party!
Aaargh. I have to get out of this reverie. Trabaho muna! Back to work!