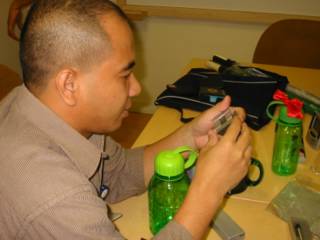 This is one of the busier activities that my team encounters in the last quarter of the year: Christmas giveaways! It might look like a lot of fun, but in reality, it's not a walk in the park. You have to think if it's something that the recipients (which are our clients) will like. And there are also certain classifications to the gifts. The request process for budget is also bloody (madugo!). Hehe. Hope my boss doesn't read this.
Anyways, when the gifts arrive, they aren't wrapped yet. So we convert our training room into an assembly line! Nagiging FW kami (Factory Worker) sa marketing department at may kasama kaming mga volunteers, ang aming mga lovable Marketing Assistants.
Actually medyo late na nga eh. These gifts should be ready for distribution by the last week of November. Hmmm... am I looking at another year of Christmas rushing? Ayoko na. When I did my Christmas rush last year, my credit card bills piled on top of each other. That is one trap I will never get myself into again.